Merch
---
Hi – thank you for visiting my Merch page!!  If you're looking for my Music page please click HERE.
I am happy to autograph your merch – please send me a note on your PayPal order or email me to let me know to whom you'd like it signed.  Thanks so much for your support!
🎶❤️
Suzie
P.S. If you'd like to send a tip I've added Square and Paypal links below; you can also send an E-transfer to suzie@suzievinnick.com (no password required).  Til shows start happening on a regular basis any contributions are welcome and greatly appreciated ❤️.
Send tips to Suzie via
Square or PayPal
---
Save Me For Later BBQ apron
Two pocket apron and includes guitar-shaped lyric from Suzie's song, Save Me For Later  "Cooking it slow brings out the flavour, darling, save me for later!"
---
Shake the Love Around shopping bag
– 100% polyester; 12″ x 6.5″ x 14″ ; side pocket & a little pocket inside
---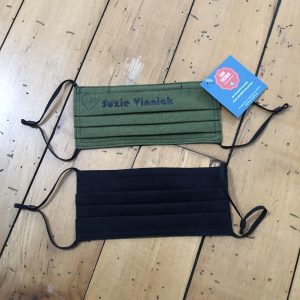 Suzie Vinnick – Face Masks
My friend Trish Walker hand-sewed some beautiful linen face masks for me; the side with the Suzie Vinnick logo is olive green and the reverse side is plain black. They are for sale for $20 CAD (Canada peeps)/$22 CAD (US peeps)/$25 CAD (International peeps) – the price includes postage.
---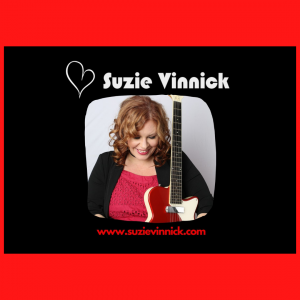 NEW!! Postcard from the road
Getting mail can be fun! 🙋‍♀️
Suzie will send you a postcard from wherever she is touring!
---
---
---