VOICES IN UNISON – Tonight!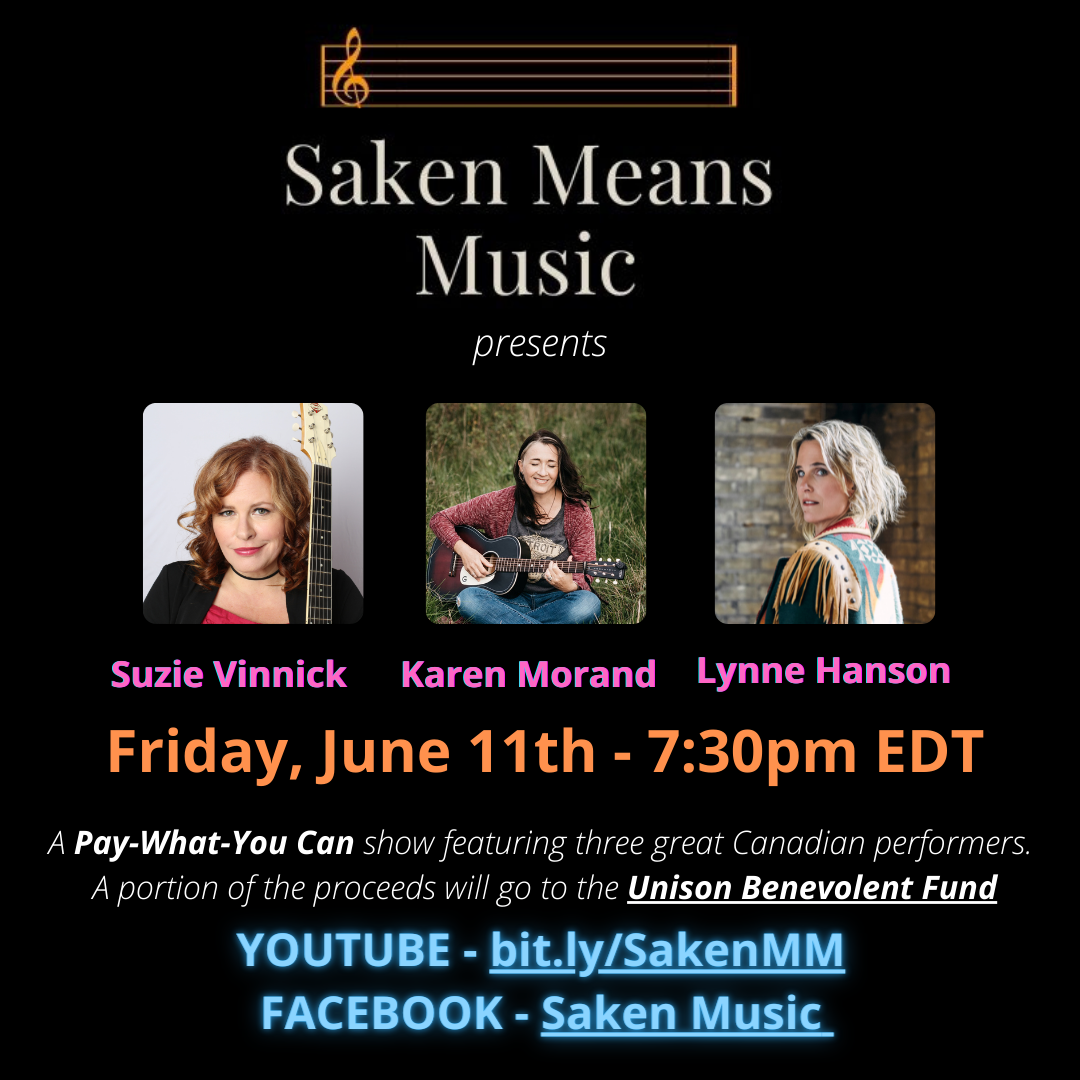 Hi Friends,

Just wanted to send out a little reminder about tonight's show, Fri. June 11th at 7:30pm EDT with Lynne Hanson and Karen Morand.
Saken Music from Van Kleek Hill, ON is hosting tonight's show featuring Lynne Hanson, Karen Morand and myself in support of the Unison Benevolent Fund.
I'm really excited to see and hear Karen and Lynne and play some music – it's going to be a fun show!! There is no cover charge but donations will be accepted and will be split amongst the performers and the Unison Benevolent Fund:
Donation link is HERE.
Watch on YouTube
Watch on Facebook
Here's some info about Karen and Lynne:
KAREN MORAND
Karen Morand has roots that run deep. Born in Toronto and based in Southern Ontario, the award-winning singer-songwriter does life off the beaten path, sleeves rolled up with an eye on the eternal. Armed with feisty, powerhouse vocals, she delivers a soul-stirring show: lively, alt-folk with well-worn blues and gritty gospel on the side.
Karen radiates with energy in live performances both solo and accompanied by her acoustic trio, BOSCO. A graduate from the University of Windsor's music therapy program, Karen enjoys making meaningful connections with her audience and inspiring hope. She is also a music educator, workshop instructor and music director.
LYNNE HANSON
Too tough for folk and too blues influenced for country, LYNNE HANSON's brand of "porch music with a little red dirt" can turn on a dime from a sunshine, blue sky ballad to a full-on thunderstorm of gritty Americana swamp from one song to the next. She's known for her high-energy, roots guitar driven live performances, whether playing solo or with her band the Good Intentions. A closet stand-up comedian, Lynne often leaves the audience howling with laughter with her between-song-banter.
UNISON BENEVOLENT FUND
The Unison Benevolent Fund is a non-profit, registered music industry charity that provides counseling and emergency relief services to the Canadian music community. We are here to help professional music makers in times of hardship, illness or economic difficulties.
Hope you are having a nice spring so far and thanks for reading!
❤
Suzie
www.suzievinnick.com
https://linktr.ee/suzievinnick
---