OSAC Virtual Concert Series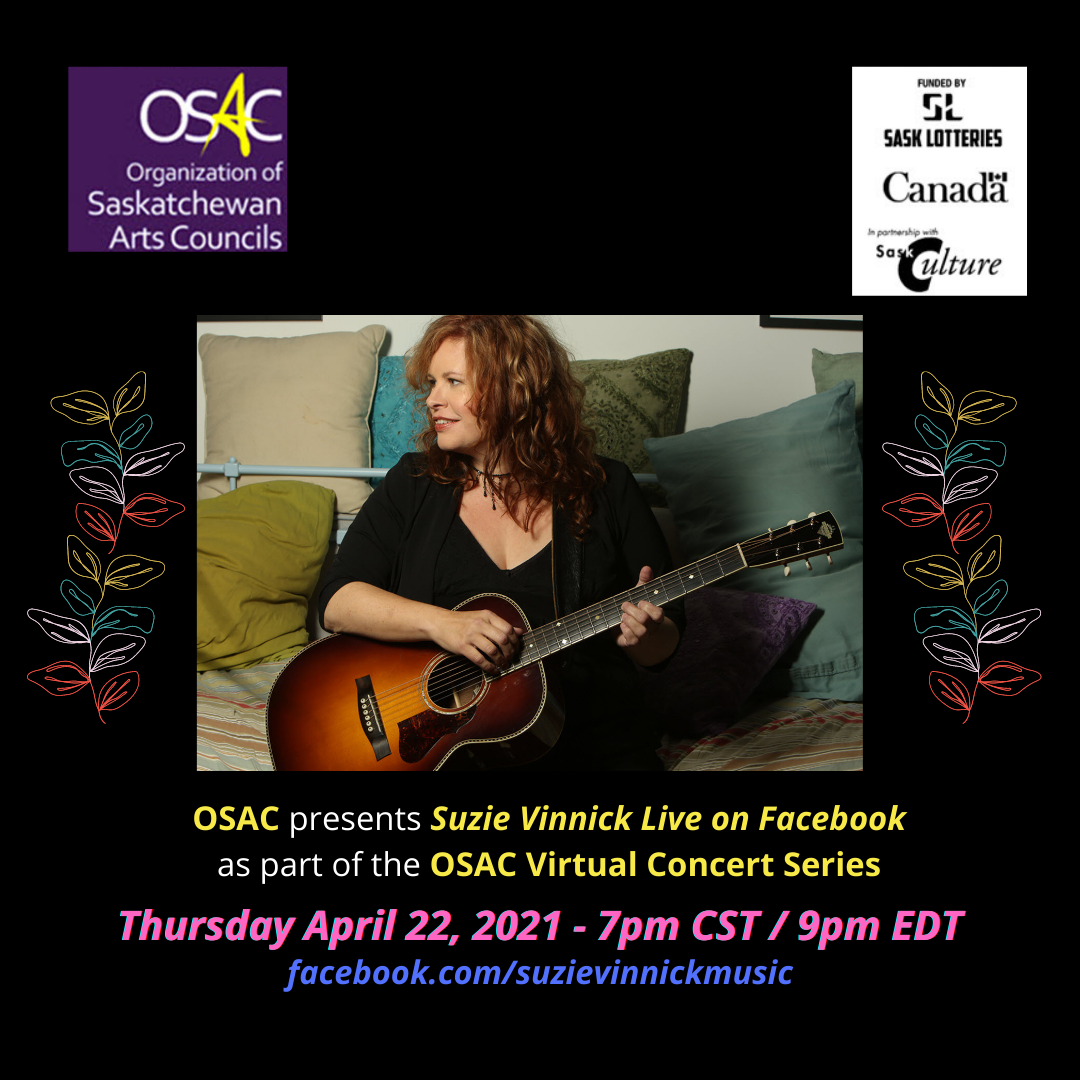 I'm very excited to have been invited to be a part of the OSAC Virtual Concert Series. OSAC is an arts organization in my home province of Saskatchewan for whom I have toured for in the past. They reached out to me and invited me to present a show as part of their virtual concert series on Thursday, April 22, 2021 at 7pm CST / 9pm EDT at facebook.com/suzievinnickmusic

The show is FREE, but donations are most welcome – you can donate to my tip jar via Square or via PayPal . There is also merch on my website if you're looking for some other kinda goodies like t-shirts, BBQ aprons, facemasks and CDs – here's the link: http://www.suzievinnick.com/music .

Here is some info about the series:
The Organization of Saskatchewan Arts Councils (OSAC) together with its member Arts Councils across the province are excited to announce the OSAC Virtual Concert Series.
Given the gathering restrictions currently in place due to the COVID-19 pandemic, OSAC is offering a 4 concert series of virtual events every Thursday starting April 8th for 4 weeks.
OSAC has nurtured the tradition of presenting excellence in the performing arts for adults, children, and family audiences in various genres and disciplines with local, national, and international artists performing as part of the Stars for Saskatchewan and/or Koncerts for Kids program.
While live performances are not allowed under current restrictions OSAC has launched this series to give our members and their patrons access to these wonderful performances.
Every year OSAC presents over 300 live community and school performances, attended by a total audience of approximately 75,000. This is possible because of a dedicated network of volunteers committed to making culture a vital part of Saskatchewan community life, and funding from Saskatchewan Lotteries administered by SaskCulture, Canadian Heritage and the Saskatchewan Arts Board.
Saskatchewan Lotteries funds more than 12,000 sport, culture, and recreation organizations around the province. Each year 600,000 people participate in programs and activities initiated by these organizations, over $1 billion of economic activity is generated, and 23,000 jobs are sustained.
The lives of Saskatchewan residents are enriched through the efforts of Arts Council volunteers who strive to ensure that live music, dance, theatre and variety performances are available across the province. Please support this commitment to the arts by attending the many wonderful presentations available in the coming season.
---